We have a small social group for gifted kids in the Northern VA area. No "definitions" -- no "proof" of any kind required. If your kid(s) need to be around other kids who like to talk philosophy, math, current events, cult-classics, etc., and you noticed this years before they turned 12, you might be having trouble finding them peers.
We are not an academic group. The goal is to help our "statistically insignificant" kids meet others who are as sensitive, intense, and persistent as they are, and to have a good time together.
Monday, March 12, from 1:30 to 3:30 p.m.
Game Day
At a Private Residence in Annandale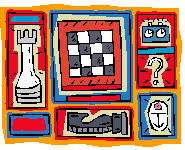 Games will be played indoors or outdoors, as the children choose.

All ages. Kids gravitate to their peers.
Please bring a snack if you wish.